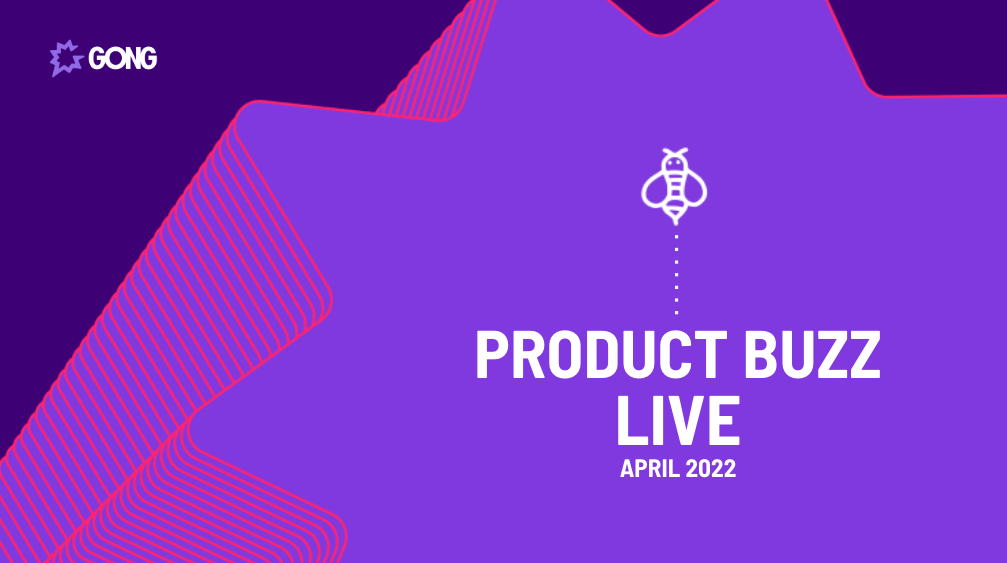 To keep the excitement and conversation going, we wanted to provide a quick recap of some questions we received during the session along with what was covered. Take a look, and then refer back to this resource as you start to utilize Gong's awesome new features!
Miss the live Product Buzz? No worries! We've got you covered! Here is the recording of the full session!
As a recap, here is what was shared in this session:
Deals
Integrate with your tools to have a richer engagement events in Deals  https://integrations.gong.io/
View "shared Gong call views" in deal activity timeline to see when prospects are engaged
Deal Insights includes Trackers
Assist
Intro Assist - Reminds you to send an intro email prior to the first call. 
Meeting Confirmation Assist - Notifies you if none of the invitees have confirmed the invitation.
Nudge Assist - Reminds you to follow up with a prospect if they haven't responded to an important email.
Back in Office Assist - Alerts you when your prospect is back from vacation so that you can follow up right on time. 
Email Editor - Create emails without ever having to leave Gong.
Coaching
Export Stats Data from the Team tab in Gong
Send Stream alerts via Slack
Platform
Set a call as "private"
Zoom Chat is now accessible when reviewing a call in Gong.
We now support Zoom Pro Support level for installing the native Zoom integration!
Consent Page for Microsoft Teams
View call activities in Hubspot 
Set up OneLogin OpenID Connect
Q&A
Who can set up integrations from Gong Collective?
Tech Admin
Is there a limit to the number of responses in Zoom Chat?
No :)
Are private messages in Zoom Chat captured? 
No, only Public Chats
Who can see private calls?
Meeting attendees and users that you share the call with
If I turn on the Hubspot integration, will it pull in old calls?
No it only sends new calls, it doesn't backfill
With Private Calls, can we still get data surrounding Trackers, Deal Activity, etc.? Or, does that private call setting exempt the call from getting ML and AI from Gong?
Even calls that are marked as private are used in statistics and Deal warnings. The existence of the private call is visible to everyone on the pages they just cannot listen to the call. Here is a help article with more details https://help.gong.io/hc/en-us/articles/4415107564557-Set-a-call-as-private