Let's get existential: Why are we here?
Our goal is to offer you the most impactful revenue community available—one that inspires the next generation of revenue leaders and practitioners. Read more about our 'Origin story' here.  You can kick things off by reading the Community Guidelines, then introducing yourself and finding out who else is here!
​​​​​​
tl;dr: There are a few steps to complete.
What you get
Then you'll be ready to dive into how the whole thing works.
 If you scroll to the top of the Community on any page, you'll see several options, all explained below:
The Community hub (Everyone)
This is your homebase. The Community hub is organized so users can do exactly what they told us they wanted to do: connect with others, share ideas, and learn from the best! If you're ready to create your first post, you have two options 1)start a conversation or 2) ask a question.  Write your first post
Product feature requests + updates (Customers only)
You can do some quick catching up on the Community's Product updates page. It has the latest and greatest info about Gong. Best of all, you can subscribe to this page so you never miss an update. 
Subscribe to product updates so you always know when something new happens.
We want you to be heard when we're building our next feature. Click on the product request button, when you have a product feature you're itching to tell us about! We'll also give you kudos when it ships!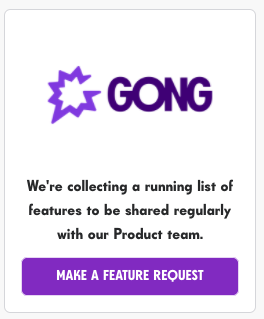 Events (certain events are Customers only) 
Check out all the happenings at Gong, and confirm that you plan to attend an event to see who else plans to be there. It's a great way to meet other people with similar interests.
Groups (certain groups are invite only)
Join a group that is relevant to you! Remember that if it's marked private, you have to add the group and then wait to be accepted by the group's moderator. Have an idea for a group that you think could help the Community? Let us know by emailing community@gong.io.
Weekly pairing with other Gong customers 1:1
Help Center (Customers only)
If you can't find an answer in the Community, you'll surely find it in the Help center. Be on the lookout for the "Support tip of the week"! 
Gong Academy (Customers only)
Become a Gong expert by taking courses in the Gong Academy. Read all about it here.
Raving Fan Club (Customers only)
Access speaking opportunities, join our reference call program, provide feedback about our product, and more. Each time you participate, you'll earn points to exchange for amazing rewards. Read about it here. 
But before you get all fancy and famous on the platform, don't forget to check out our Community Guidelines to make sure you stay within bounds!