It's Thanksgiving season.
That time of year when holiday decor shifts from Halloween ghosts and goblins to fall signs saying "Thankful", "In Gratitude", "Grateful", and "Blessed".  
We decorate our houses with pumpkins, scarecrows, and fall colors of orange, yellow, red, and brown. While we know how to create the aura and vibe of Thanksgiving, do we also take enough time to reflect on the true meaning of the holiday? We should, as the holiday's name literally is "giving thanks".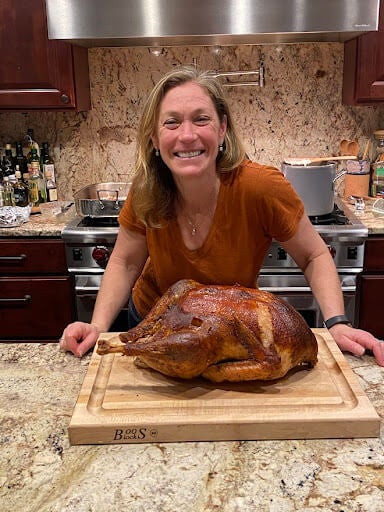 Thanksgiving Turkey!
For me, Thanksgiving is about gratitude. Giving gratitude to others and remembering to be personally grateful for what I have. Gratitude is more than just the occasional thank you or showering praise at a company all-hands. 
Thanksgiving may be the time of year when we intentionally focus on gratitude, but now is a reminder that gratitude is a muscle we should build and use all year long, not just during this season. Being grateful is a state of being, and we all (myself included) would benefit from showing more gratitude 365 days of the year.
In my continual thirst for learning, I read, listen to podcasts, and attend as many courses as possible. A recent favorite course I attended was a Stanford class on Happiness. Yale offers a similar course, The Science of Well-Being, which is one of the most well attended virtual courses of all time. A key skill covered in the class is Gratitude. 
The notion of gratitude comes up again and again. Not only on Thanksgiving. But related to health. And happiness.
So, what is gratitude and why does it matter? 
CAN GRATITUDE LEAD TO A HAPPIER AND MORE FULFILLING LIFE? 
I answer these burning questions in the latest issue of The Edge - my monthly newsletter for executives. Plus I share 5 ways you can start cultivating gratitude today. Check it out and let me know what you think.